The Munsters follows the day-to-day adventures of a Frankenstein-like Herman Munster and his ghoulish family living in suburban America.
Season1, Episode 7: Tin Can Man
Grandpa helps Eddie build a robot for a school project.
Season 2, Episode 27: Eddie's Brother
Grandpa builds a robot brother named Boris for Eddie.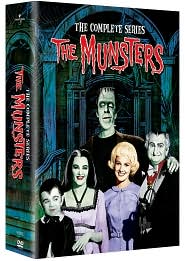 Robot Cast
Science Project Robot
Boris
Non-Robot Cast
Herman Munster
Fred Gwynne
Lily Munster
Yvonne DeCarlo
Grandpa
Al Lewis
Eddie Munster
Butch Patrick
Rate this title:
Tell your friends: